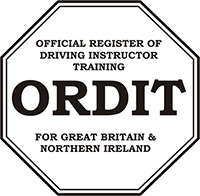 Instructor Training
from Express
Driver Training | Become a Driving Instructor | Instructor Prices | Book Online
Trainee Licence | FAQ
If you are looking for a new career that gives you the freedom to work when you choose, is full of rewards and job satisfaction, and can earn you a great income at the same time, then you need a career as a driving instructor.
Express Driver Training can provide you with everything you need to qualify from PAYG options to complete courses. We are an ORDIT registered company with High Graded ORDIT Trainers and we have many years experience in training people to become driving instructors and offer a first class service and excellent value for money.
What is ORDIT?
This is the official register of driving instructor trainers, you are best equipped for your training if you choose an ORDIT registered trainer to complete your ADI training. This is because we are regulated by the DVSA and undergo continued CPD (continued Professional development). This means we are up to date with the latest standards and requirements for passing the examinations and are regularly assessed by the DVSA to ensure we meet that standard and criteria to be on the ORDIT register.
If you need some confirmation about a company or individual trainer to check they are on the register you can request this from the DVSA at any time.